HOME > ABOUT ROYCE'

Company Overview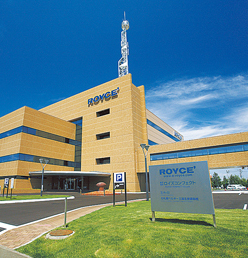 Trade Name:

ROYCE' Confect Co., Ltd.

Head Office:

1-1, Ainosato4-9, Kita-ku, Sapporo, Hokkaido 002 8074 Japan

Futomi Factory:

640-15 Bitoe, Tobetsu-cho, Ishikari-gun, Hokkaido 061 3775 Japan

Ainosato Factory:

1-1, Ainosato4-9, Kita-ku, Sapporo, Hokkaido 002 8074 Japan

Established:

July 1983

President:

Yasuhiro Yamazaki

Factory
High quality production and strict hygiene standards
Access to the production line is strictly controlled. Before entering the production line area, everyone is required to wear factory-issued uniforms and shoes before passing through a specialized air tunnel to remove dust. Adhesive tape rollers are then used to ensure that no dust remains on the clothes. Finally, hands are carefully washed and disinfected. No one may proceed to the production line until they have fully completed this process.
By taking these measures, we are confident of offering our customers products of the highest quality and hygiene. At Royce', it is our policy to respond continuously to customers' requests and produce confectionery with uncompromising standards.

Location: 640-15, Bitoe, Tobetsu-cho, Ishikari-gun, Hokkaido


World Cocoa Foundation / WCF

Royce' has become a member of World Cocoa Foundation.
The World Cocoa Foundation is a 501(c)(3) non-profit organization founded in 2000 for the purpose of promoting social and economic development as well as environmental stewardship in cocoa-growing communities. The foundation is a membership-based organization with approximately 70 member companies involved in the cocoa and chocolate industries around the world, representing over 80% of the global market.
The foundation supports programs that work with farmers on a pre-competitive basis, prior to sale or commercialization of their cocoa. In this way, the programs provide farmers with the skills they need to operate productive farms and make sound business decisions. Royce' approves of the programs and would like to contribute to built up the fare industrial structure of world cocoa & chocolate business. With holding this belief we became a member of WCF.